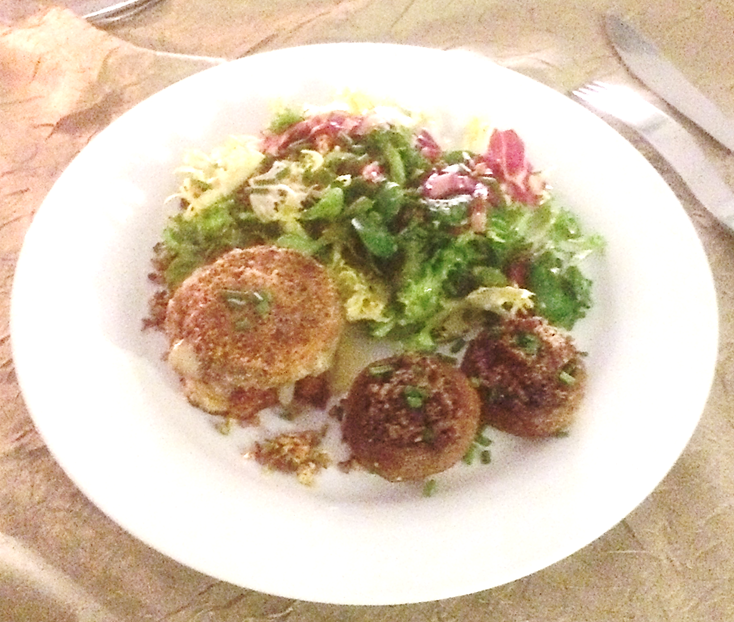 SALAD FROM AUBAZINE
Ingredients :
50g of mesclum mix
2 Rocamadours or Cabécous
2 ceps or button mushrooms
1 slice of bread 3cm thick approx.
10g of smoked fillet of duck breast
1 egg
Olive oil
Melfor Vinegar
Mustard
Chive
Salt, pepper
Hazelnut powder
Mixed dried fruits
Preparing the recipe
:
Wash the salad.
Clean the ceps, cut on the bases and chop.
Cut the duck breast into thin slices [keep half]. Mix them in reserves bases and the duck breast with the mix thicken 1tbsp of hazelnut powder and stuff the ceps, sprinkle with the olive oil.
Put in the oven at 30 'to 200*c. One cc of mustard with a cc of olive
oil then add a cc of vinegar, salt and pepper. Mix with the salad.
Brush one side of a cheese with honey and place the second on top, then put it in all with the beaten egg and then place in the hazelnut powder.
Cut a round the size of the cheeses from the bread, toast it in olive oil on both sides then grill the cheese on both sides.
Place on the bread, then lay on the plate, place the salad with the duck breast and a cc of mixed dried fruits and then add the ceps.
Chop the chives, sprinkle over and serve as soon!
Read more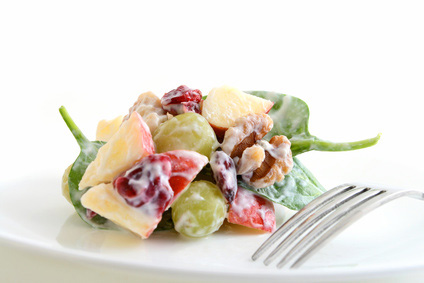 Waldorf Salade
Ingredients
½ cup minced walnut
½ cup minced celery
½ cup sliced red grapes without seeds (1/4 cup raisins)
1 sweet apple, diced
3 tablespoons mayonnaise (or plain yoghurt)
1 table spoon lemon juice
Lettuce
Salt
Pepper
Preparing the recipe
Blend the mayonnaise (or yoghurt) and the lemon juice in a medium-sized bowl. Add ½ teaspoon salt, ¼ teaspoon freshly ground pepper.
Mix the diced apple, the celery, the grapes and the nuts. Add the sauce.
Serve over a bed of fresh lettuce.
Read more